All Day Breakfast
Why decide between breakfast and lunch?
We say don't! See our all day breakfast menu below.
Toast & House Preserves (3 per serve) / 8.5
sourdough, multigrain, fruit loaf, gluten free with condiments
Eggs your way on Toast / 13
poached, fried or scrambled (gfo, v)
Porridge / 18
honey infused porridge, cinnamon sugar, spiced poached pear, maple crumble
Smashed Avocado / 25
heirloom tomatoes, beetroot purée, toasted almonds, Danish feta, poached egg (v, gfo, vo, n)
Chilli Eggs / 13
scrambled eggs, cherry tomatoes, chives, fried shallot, sourdough (gfo, v)
+ chorizo / 3
Green & Grain / 21
sautéed green vegetables, charred corn, goji berries, avocado, almond flakes, quinoa, pea hummus, poached egg (v, gf, vo, n)
Eggs Benedict / 22
English muffin, pulled beef brisket, poached eggs, apple & fennel slaw, mustard hollandaise (gfo)
Sandbar Breakfast Board / 25
vine tomatoes, sautéed mushrooms, spinach, chilli relish, 2 eggs your way, fresh avocado, sourdough (gfo)
Breakfast Burger / 15
fried egg, bacon, Swiss cheese, smoked chilli relish, milk bun (gfo)
+ hash / 4
BuTtermilk Pancake Stack / 21
vanilla pancake stack, seasonal berries, maple syrup, brûlée'd banana, Persian floss, cinnamon and vanilla bean mascarpone (v)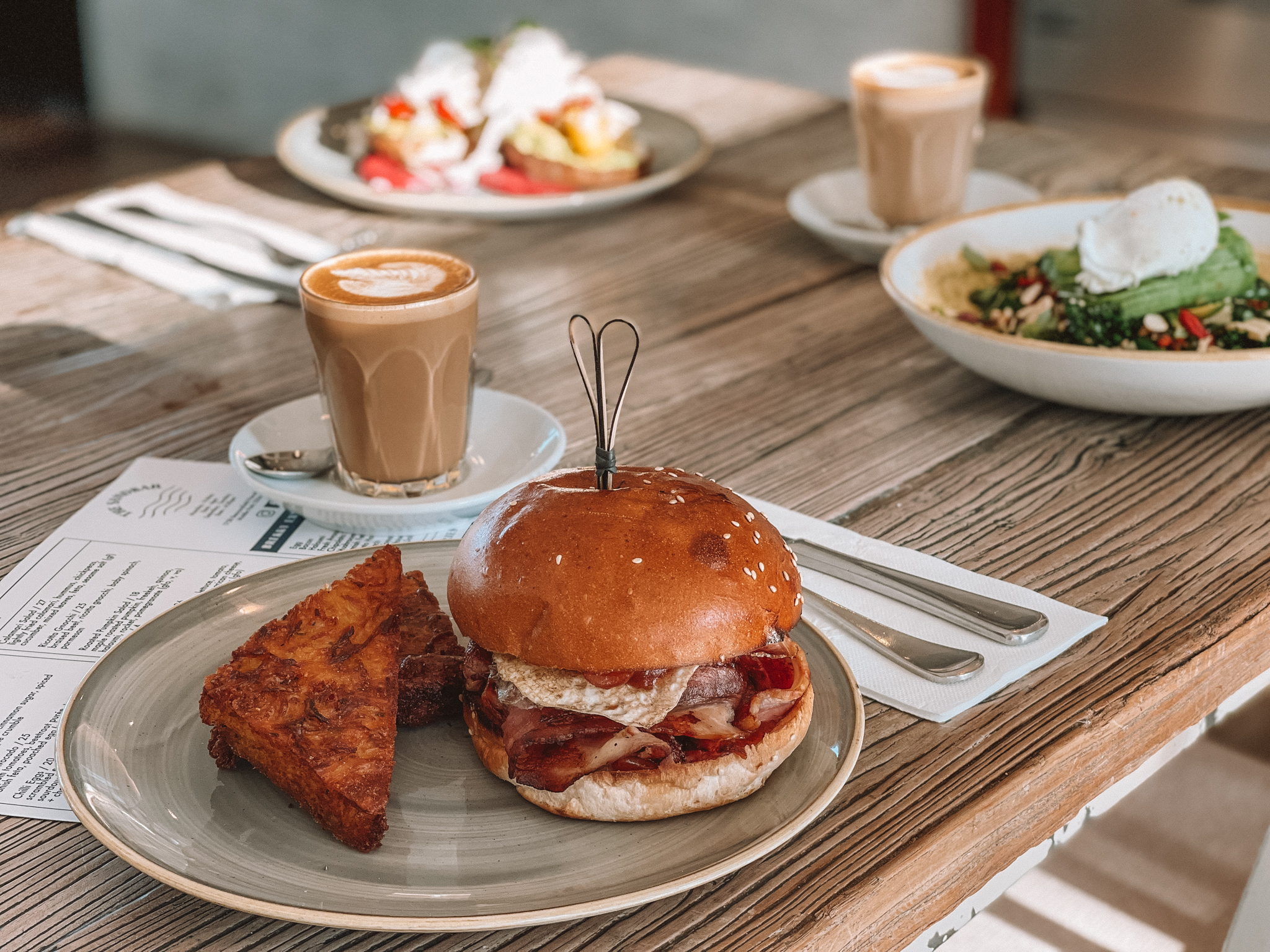 Egg / 3
Bacon / 5
Grilled Haloumi / 4
Fresh Avocado / 5
Chipolata Sausages / 5
Mushrooms / 4
Danish Feta / 3
Potato Hash / 4
Vine Tomatoes / 4
Spinach / 4
Hollandaise / 3
Smoked Salmon / 6
Calamari Salad / 27
lightly fried calamari, hummus, chickpeas, cucumber, mixed leaves, feta, sesame salt (gf)
Ricotta Gnocchi / 25
braised beef, ricotta gnocchi, baby spinach, parmesan
Roasted Pumpkin Salad / 18
maple roasted pumpkin, freekeh, quinoa, haloumi, rocket, pomegranate (gfo, v, vo)
+ chicken / 4
Sandbar Beeg Burger / 26
150g premium beef patty, cos lettuce, tomato, caramelised onion, dill pickle, American cheese, house sauce, milk bun, shoestring fries (gfo)
Prawn Tacos (2 per serve) / 17
smokey garlic prawns, shaved lettuce, sriracha, kewpie mayo, crispy shallots, shoestring fries (gfo)
Fish & Chips / 27
beer battered fish, rustic chips, salad, lemon, tartare sauce (gfo, dfo)
Seafood Linguine / 32
mussels, clams, whitefish, calamari, prawns, chilli garlic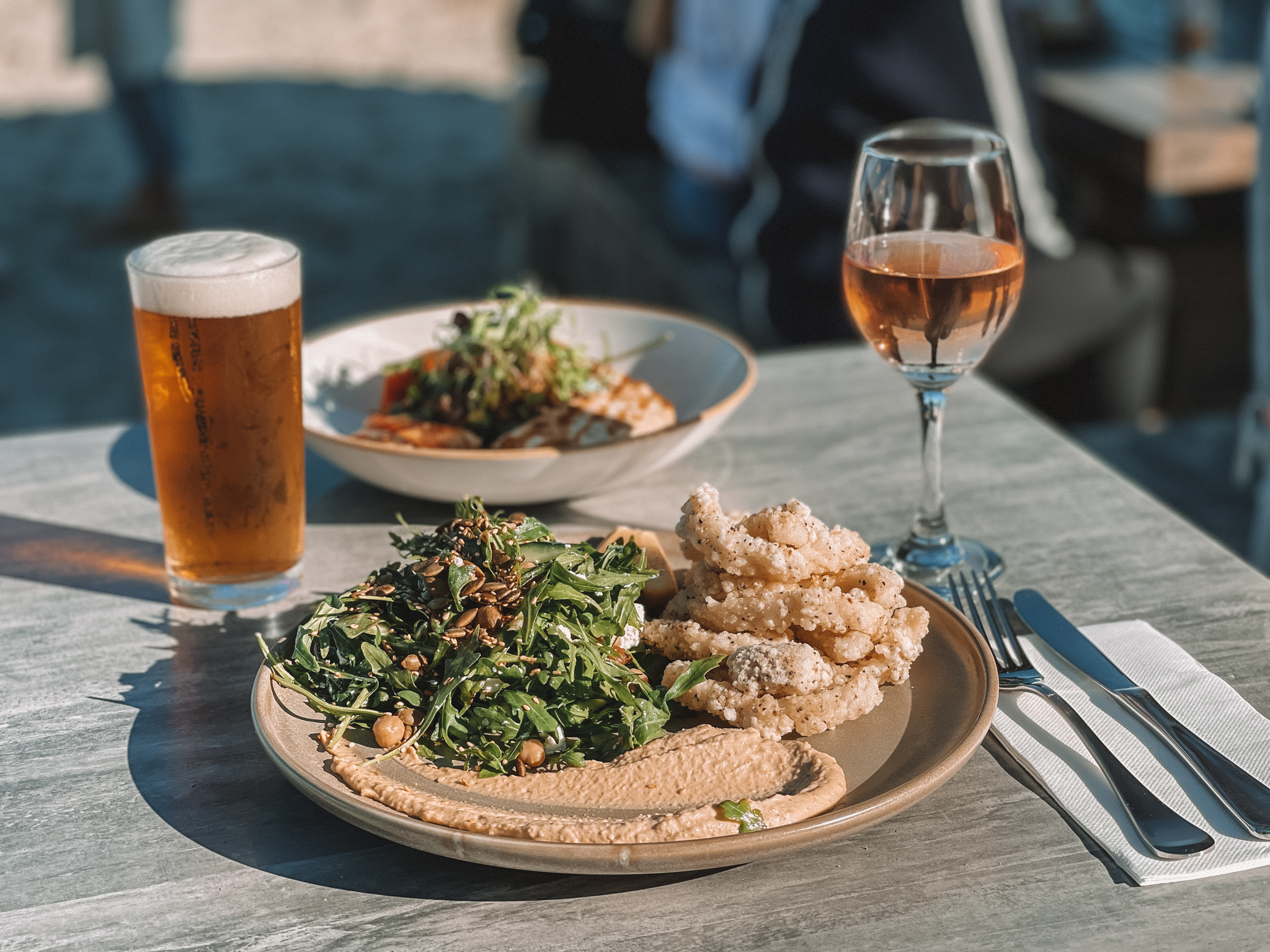 Hand cut rustic chips / 12
served with aioli
Shoestring Fries / 11
served with garlic aioli
Bacon, Eggs & Soldiers
fish & Chips
Pancakes with Vanilla Ice Cream, Maple Syrup and Rainbow Sprinkles
Chicken Tenders & Chips
Sundae / 8.5
df – dairy Free
dfo – dairy Free Option
veo – vegan option
gf – gluten free

gfo – gluten free option
v – vegetarian
vo – vegetarian option
Feeling thirsty?
We have you covered from fresh barista made coffees to refreshing juices to quench your thirst! See our drinks list below!
Long, Short, Black, White / 4
Large / 1
Extra shot / .50
Bonsoy, Almond, Lactose Free Milk / .50
Oat, Coconut Milk / 1
Decaf / .50
Syrup / 1
Hot Chocolate / 4 / 5
Calmer Chai / 4.8 / 5.5
English Breakfast, Earl Grey, Just Peppermint, Green, Lemongrass & Ginger, Jasmine, Just Chamomile, Morning Sunshine, Packs a Peach
Coffee, Chocolate, Caramel, Strawberry, Vanilla
*served with ice cream
Coke, Diet Coke, Coke No Sugar
Sprite, Fanta, Dry Ginger, Soda Water,
Crushed Raspberry / 4
Lemon, Lime & Bitters / 4
Mineral Water 300ml / 4 | 1L / 7
Peach Iced Tea, Lemon Iced Tea / 5
LoBros Kombucha – Raspberry & Lemon,
Ginger & Lemon, Passionfruit, Peach & Ginger / 6
Cold Pressed Juice – Orange, Watermelon, Apple / 8
Cold Pressed Juice – Green / 9
Coconut Water / 7
Orange/Apple Juice Bottle / 5
| | | |
| --- | --- | --- |
| Beer / Cider | | Jug |
| Carlton Draught (on tap) | 8.7 | 20 |
| Peroni (on tap) | 10 | 24 |
| Balter XPA | 11 | |
| Balter IPA | 11 | |
| Corona | 10 | |
| Cascade Premium Light | 8 | |
| 4 Pines Pacific Ale | 10 | |
| 4 Pines Pale Ale | 11 | |
| Napoleon Apple Cider | 10 | |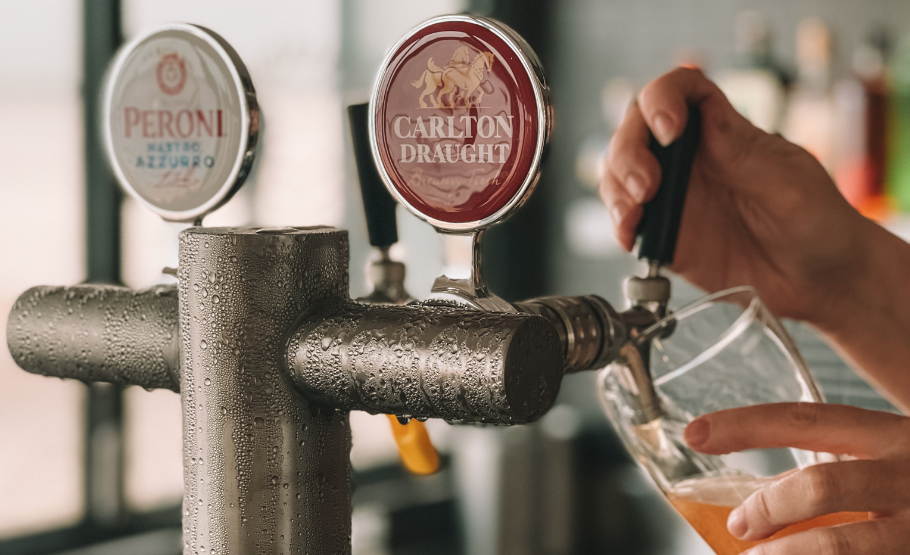 | | | |
| --- | --- | --- |
| Sparkling | Glass | Bottle |
| Pizzini Prosecco, king valley | 9.5 | 48 |
| NV Chandon Brut, yarra valley | 13 | 62 |
| NV Veueve Cliquot, france | | 100 |
| | | |
| --- | --- | --- |
| White Wine | Glass | Bottle |
| Rob Doland True Colours Chardonnay, yarra valley | 10.5 | 50 |
| La La Land Pinot Gri, murray darling | 10.5 | 50 |
| Wood Park 'Whitlands' Pinot Grigio, king valley | 10 | 46 |
| Vickery Riesling, eden valley | 11 | 50 |
| Ducky Sounds Sauvignon Blanc, marlborough | 11 | 50 |
| Deakin Estate Moscato, murray darling | 9 | 42 |
| | | |
| --- | --- | --- |
| Rosé | Glass | Bottle |
| Days of Rosé, mclaren vale | 11 | 50 |
| Artea, france | 12 | 60 |
| | | |
| --- | --- | --- |
| Red Wine | Glass | Bottle |
| Smoking Barrels Single Vineyard, barossa valley | 11 | 52 |
| St Hallet Garden of Eden Shiraz, eden valley | 10.5 | 50 |
| Jr Jones Pinot Noir, mornington peninsula | 13 | 60 |
| Mojo Cabernet Sauvignon, mclaren vale | 10 | 50 |
| Aquilani Sangiovese, italy | 10 | 50 |
| | | |
| --- | --- | --- |
| Cocktails | | |
| Aperol Spritz | 17 | |
| Espresso Martini | 19 | |
| Margarita | 19 | |
| Mojito | 19 | |
| Old Fashioned | 19 | |
| Cosmopolitan | 19 | |
| Campari Spritz | 17 | |
| Bloody Mary | 18 | |
| Mimosa | 13 | |
| Japanese Slipper | 19 | |
| Blue Lagoon | 19 | |
| Dark & Stormy | 19 | |